Welcome to our website, Inspection And Test Plan Templates!
Here, you can find professionally written, Inspection and Test Plan templates for different aspects of construction works that you can easily edit in order to fit your project and company.
For each construction activity, the templates we provide, include three main components:
The ITP Template: The table that includes all the testing and inspection activities that you need in order to ensure compliance with the international standards and the project requirements and specs.
The Inspection Checklists: These are the forms that you need to fill in whenever you are doing any testing or inspection activity.
The QCP (Quality Control Procedure): These are the documents that give explanatory description on how to do the inspection and testing activities in the ITP.
We currently provide the ITP – Inspection and Test Plan templates for the Electrical works mainly at construction sites.
These templates were prepared by the founder of our website, Mr. Amjad Judeh, who is an Electrical Engineer with more than fifteen years of experience in the construction and quality control field.
These Templates are composed of MS Word & Excel files that you can further edit in order to fit any specific requirement of your project and add your company's details.
Getting our templates can help save you the hassle and time, which is money and help you getting things done faster.
You can check the available Electrical ITP Templates by clicking here!
OUR STORY
Hello,
I'm Amjad, the founder of InspectionAndTestPlan.com.
I'm an Electrical Engineer with more than fifteen years of experience in large construction projects with both, contractors and consultants.
You can learn more about my experience through my LinkedIn profile by clicking here!
I have noticed through the years that there's a need to help other fellow engineers who are work in the Quality Control and Quality Assurance (QA/QC) departments get professional ITP templates that can help save them the time and effort when doing the activities related to their jobs.
And that's why, I have created this website, were I provide these templates for a small fee that is not comparable to the value of the time and effort saved by getting them.
Currently, you can get the ITP templates for Electrical works through our website. Click here to check the available ones!
If you ever need a hand or have any questions, or if you have already purchased any of our templates and you have any issue with it, please, feel free to leave them below, or reach our through our Contact Us page and we will be more than happy to help you out.
All the best,
Amjad Judeh
www.InspectionAndTestPlan.com
==========================
Want a better deal?
Smart Deal – 49

% OFF

on The Complete Package – 12 ITP's for the Price of 6
We are currently offering a massive discount. If you decide to get the complete package of all of the available twelve ITP templates for Electrical Works, you can get it at a discounted price of $299 instead of buying the twelve templates individually at a total cost of around $588.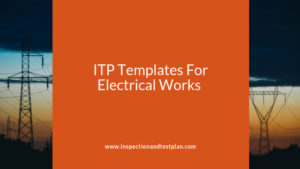 =================================
Note: These Inspection and Test Plan Templates & Checklists for Electrical Works are available for sale only through this website Inspection And Test Plan Templates and through our affiliated sites and our store on https://payhip.com/itptemplates, and can be used for each project after purchase.
You may not re-purpose, distribute or resell the purchased templates for other than the project they were initially purchased for.