Hello fellow professional!
If you need to get our editable ITP templates for a small fee that will save you the time and effort instead of creating everything from the scratch, then you can check out the available ones through this link.
If you need any specific requests, have any questions, or if you have already purchased one of our templates but you need help with it, please, feel free to reach us through this email: amjadjudeh@yahoo.com, or, you can leave us a note in the comments' section below, and we will be reverting back to you asap.
Have a nice day 🙂
Amjad Judeh
Founder of www.InspectionAndTestPlan.com
==========================
Want a better deal?
Smart Deal – 49

% OFF

on The Complete Package – 12 ITP's for the Price of 6
We are currently offering a massive discount. If you decide to get the complete package of all of the available twelve ITP templates for Electrical Works, you can get it at a discounted price of $299 instead of buying the twelve templates individually at a total cost of around $588.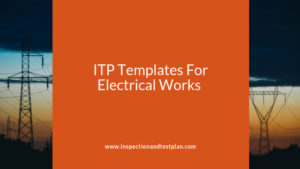 =================================
Note: These Inspection and Test Plan Templates & Checklists for Electrical Works are available for sale only through this website Inspection And Test Plan Templates and through our affiliated sites and our store on https://payhip.com/itptemplates, and can be used for each project after purchase.
You may not re-purpose, distribute or resell the purchased templates for other than the project they were initially purchased for.