Get the Editable ITP Template for the Inspection and Test Plan for Installation of Electrical Lighting Systems with Inspection Checklists to use them at construction sites.
Purchase this complete, editable ITP template for Electrical Lighting installation for the low price that is less than the cost of an hour of your time.
This template contains editable MS Word & Excel files that you can use and update as per the specifications and requirements of the project you are working on.
What You Will Get With This Lighting Systems Inspection & Test Plan Template
---
This ITP Template includes the following 3 main components:
1 – Quality Control Procedure (QCP) for Installation of Electrical Lighting Systems
This is a document that explains in details the Scope, Purpose, Definitions, References, Responsibilities & Procedure in clear and defined steps for the testing activities mentioned in the ITP (item # 2 below).
Here's a screenshot from the QCP For Installation Of Electrical Lighting Systems:
2 – ITP – Inspection and Test Plan Template for Electrical Lighting Systems Installation
The complete table of inspection and testing activities that shows each activity to be performed in order to make sure that the installed Electrical Lighting Systems are compliant to the project's specifications and requirements, the reference to be followed, acceptance criteria, responsible personnel, related checklist (from item # 3 below), the required level of interference from each party (Contractor, Consultant, Third Party) such as: Inspection, Survey, Report Review, Witness & Hold.
Here's a screenshot from the ITP Template For Installation OF Electrical Lighting Systems
3 – Electrical Lighting Systems Inspection Checklists
These are the complete quality inspection checklists for the installation of Electrical Lighting Systems where the result of each inspection and measurement made on the installed Lighting Systems is registered with space for Remarks and Notes.
Total 9 forms:
Support Mounted Fixtures Install Installation and Testing Report.
Flood Light, Road and Column Mounted Lighting Installation Report.
Lighting Circuits Termination Inspection and Testing.
Measurement of Illumination Levels.
Junction Boxes Inspection.
Inspection Check List for Panelboard Installation.
Material Receiving Report.
Inspection of Earth Continuity Test of Field Equipment.
Minimum Illumination Levels.
Here's a screenshot from one of the different Quality Checklists available in this Electrical Lighting Systems ITP Template:
Click on the following image in order to download the ITP Template For Installation Of Electrical Lighting Systems
You will get a pop-up or get redirected to a secure page where you can buy the template and securely pay through PayPal or credit card.
The cost of this template is less than the cost of two hours of your own time if you want to start from scratch and create the Electrical Lighting Systems ITP Template & Inspection Checklists by yourself.
And after paying, you will receive an email with the download link.
==========================
Want a better deal?
Smart Deal – 49

% OFF

on The Complete Package – 12 ITP's for the Price of 6
We are currently offering a massive discount. If you decide to get the complete package of all of the available twelve ITP templates for Electrical Works, you can get it at a discounted price of $299 instead of buying the twelve templates individually at a total cost of around $588.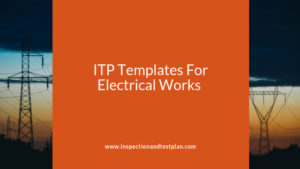 =================================
Note: These Inspection and Test Plan Templates & Checklists for Electrical Works are available for sale only through this website Inspection And Test Plan Templates and through our affiliated sites and our store on https://payhip.com/itptemplates, and can be used for each project after purchase.
You may not re-purpose, distribute or resell the purchased templates for other than the project they were initially purchased for.