Purchase these editable Inspection and Test Plan Templates for Construction Works here and save the time on yourself instead of starting from scratch!
The cost of each template is less than the cost of two hours of your time.
Every template consists of the following:
QCP – Quality Control Procedure for Electrical Works: An MS Word document that explains in a step-by-step procedure how to do the quality inspection and testing activities for installing a specific item, e.g. electric motors, diesel emergency generators, electrical cables, …etc.
ITP – Inspection and Test Plan for Electrical Works: An MS Word document that consists of a table that shows each activity in one row, mentioning the responsible party of doing each part, the role of the owner's engineer, the number of the related checklist to be filled, the criteria for success of each test/activity, …etc.
Electrical Works Quality Inspection Checklists: MS Word & Excel checklists and forms that are can be printed out and filled for each item to be tested.
All the above documents are created in editable MS Word & Excel files so that will save you the time instead of starting from scratch, but you can customize them for your own project by adding the project name, parties involved, custom specifications for the items to be inspected, …etc.
==========================
Note: For this month only, we are offering a 25% discount on all of our templates.
Make sure to use the discount code FT25 on the checkout page.
==========================
Note: Move the cursor over each image to see the name of the ITP template.
==========================
Want a better deal?
Smart Deal – 49

% OFF

on The Complete Package – 12 ITP's for the Price of 6
We are currently offering a massive discount. If you decide to get the complete package of all of the available twelve ITP templates for Electrical Works, you can get it at a discounted price of $299 instead of buying the twelve templates individually at a total cost of around $588.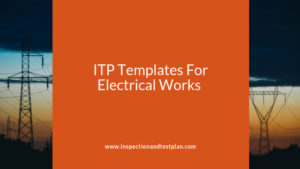 =================================
Note: These Inspection and Test Plan Templates & Checklists for Electrical Works are available for sale only through this website Inspection And Test Plan Templates and through our affiliated sites and our store on https://payhip.com/itptemplates, and can be used for each project after purchase.
You may not re-purpose, distribute or resell the purchased templates for other than the project they were initially purchased for.